Back to Blog Homepage
Tips & tricks: Hiking with dogs
Have a "pawsome" time! Is there anyone who gets more excited to go outside than we do?  Say, someone of the 4-legged canine variety?  At the first sight of a backpack and hiking boots, does your furry friend get so excited he runs back and forth between you and the front door no less than 40 times?  When you reach for the door handle, does he watch just waiting to make a break for it when he realizes your body is the only thing separating him from the adventure that awaits? Our dogs are so much more than just animals.  They become a part of our hearts and lives long before they've made our house their home.  If you like hiking (and, come on, we know you do), there's no reason not to bring your furry pal with you and the whole family.  Check out our tips to make your hiking experience the best (and safest) possible.
*Writing this post made me realize that hiking with my dog isn't that much different from hiking with my child (obvious specifics aside).  Both need planning and preparation, but getting outside is so worth it.  If you're looking for tips on hiking with your kiddos, check out our Tips & Tricks:  Hiking with Kids post.  A good plan equals a great experience. The best things about hiking are that it requires almost no special equipment, and there are so many gorgeous places to explore.  That said, not every park or trail is as welcoming to dogs as say, your local pet store.  You need to put thought into your hike before you lace your boots and get your hiking companion excited.
Investigate the location.  Not every park or trail allows dogs or maybe within a park, only some trails are dog-friendly.  If you need help finding a "tail-friendly trail" (how I wish I came up with that catchy phrase), take a look at the Hike With Your Dog site for a state-by-state guide to parks that welcome dogs.
Consider the trail.  Read reviews to learn what others have said about a trail to see if it's right for you and your pup.  Consider not only the terrain, but also your dog's personality.  If he's shy or maybe isn't a fan of crowds, choose a trail that's less popular or go at an off time . Hiking should not be anxiety-causing . . . for any member of your family, furry or not!
Think about your pup's physical condition.  Just because your dog is the canine version of Usain Bolt with backyard sprints, don't assume he can hike 10 miles.  Like humans, dogs need to work up to longer hikes.  Also consider your dog's age and physical condition.  Older dogs can have stiff joints or other physical limitations that reduce their abilities.  Be honest when you think about what your dog can comfortably manage.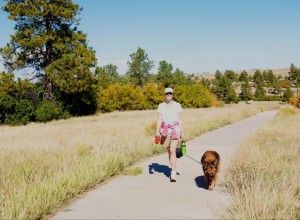 Make a list, and check it twice. Just because your dog can't speak, doesn't mean he can't communicate his unhappiness if his needs aren't met – even on a hike.  Spend time planning what he needs, as well as what you'll need, so you all have an awesome time.
Double check your dog's leash.  Some parks have leash regulations, so be sure to find out.  Typically, non-retractable leashes aren't allowed.  In my experience, those types aren't sturdy enough and are a bad choice.  Leashes should be 6 feet or less for you to maintain control.  If you're on a trail that doesn't require leashes, it's still a good idea to use one – especially if it's a multi-use trail.  Do you really want your pup darting in front of a mountain biker?
Bring plenty of water and food.  Just like their owners, dogs need to stay hydrated, so use your thirst as a guide.  When you want food, you can count on your companion wanting some, too.  Bring a collapsible bowl to make water and food breaks easy.
Pack essentials.  Put a map, sunscreen, a first aid kit (for all of you), a GPS (or compass), toilet paper/wipes, resealable bags and bug spray into your backpack.  If you're hiking on a chilly day and your dog has a thin coat, consider bringing a doggie jacket.  On the flip side, if your dog has a thick coat and the weather is hot, think about a hydration bandana or a pack.  I've never been successful getting my dog to wear socks/booties, but they do serve a great purpose when the terrain is rough. 
Time for a safety break. No matter the hike's length, you need to be a safety guy (or girl).  Think about ways to prevent accidents, but be prepared in the event of one.
Remember the first aid kit.  Hopefully, you'll never need your first aid kit, but if you do, boy, will you pat yourself on the back for remembering it.  You can buy a dog-specific kit or put together your own with a paw bootie, gauze, wound spray, liquid bandage, and tweezers.  Look online for suggestions.  There are also dog first aid classes to prepare you for any emergency.
Make sure your pup has identification.  Be sure your dog has tags (or a personalized collar) with his name and your current ("Yes," current) address and phone number.  A recent picture of him is helpful in case you get separated.
Be current on vaccinations.  Keep up to date on vaccinations because while you have the best intentions of not letting your dog drink from a puddle or murky lake, it may happen.  If you're in a location that has fleas, ticks, and heartworms, be covered . . . err, up to date.
A hiking you will go! You've all made it out the door.  Now, your adventurous companion is anxious to begin your hiking experience.  So, how can you make the day fun for all of you?
Be in control.  Make sure you can control your dog and that he understands (and follows) basic commands like sit, stay and leave it (or drop it in case leave it fails).  If your pup doesn't walk nicely on a leash and insists on playing the "make a new friend game" by running up to kiddos and other dogs, think about practicing some basic training skills.
Follow Leave No Trace (LNT).  LNT isn't just for hikers of the human persuasion.  It's your responsibility to follow the practices and make sure your dog stays on the trail and respects wildlife.  You also need to dispose of your pet's waste properly either by packing it out or burying it just like you would your own.  To learn more about the LNT Principles, read our Leave No Trace:  What It Is and Why It's Important post.
Remember to have fun.  Keep a reasonable pace and stop for breaks.  Also, check your dog for signs of exhaustion.  Is he slowing down, panting excessively or drooling?  If so, take a break and then head back to the car.  The day will be a success just because you all spent time together in the outdoors.
Let's face it, your dog could care less about the scenery or the views.  He's more interested in the smells and being with his family, of course!  I saw a bumper sticker that said, "Life is better with a dog," and I think that's so true in general, but especially on a hiking trail! *This post is dedicated to all canine hikers, past and present, but especially to Tao Moeschler, Harper Basche and Kelsey Pekala, who were all intrepid companions and enthusiastic trekkers throughout their memorable lives.
  About the Author: Lynne Marsala Basche spent most of her career on the island of Manhattan at two New York publishing companies.  A multi-year Avid4 Adventure mom and a new contributor to the Avid4 Adventure website, Lynne's writing adventures also take her to championing volunteerism and regional recreation stories as a staff writer for the Castle Pines Connection newspaper, as well as supporting separate large corporate communications programs.  By trying to keep pace with her mountain biking, rock climbing, snowboarding, lacrosse playing, unicycling, tae kwon do-loving 11-year old son, she, like most Avid4 parents, loves sharing the value of outdoor recreation and its positive influence on children's health and confidence development.  Lynne lives in Castle Pines, Colorado and regularly immerses herself in outdoor activities with her family where she also runs her freelance writing company, Blue Spruce Creative
Tagged: benefits of outdoor acitivites, getting kids outside, kids and nature