Back to Blog Homepage
Our adventure camp staff: Highest standards to deliver the best experience
Part teacher, leader, creative thinker and intrepid adventurer with a dash of superhero thrown in, that's our staff!
Meet Haley McNabb, Staff Recruiting Manager at Avid4 Adventure.  Haley's love of the wilderness began in the north woods of Minnesota, guiding 5-day canoe trips for teenagers at the same camp she attended.  Haley loved instructing so much, she knew she wanted to make it her career.  With a BA in Environmental Studies and Economics from Lewis and Clark College and an MA in Environment and Development from Kings College in London, you might think Haley isn't your typical Avid4 Adventure staff member. You'd be wrong.
Haley started at Avid4 Adventure as an instructor, and when the opportunity came up, Haley transitioned into a Camp Director and management role.  Now, Haley gets to facilitate the Avid4 Adventure experience not only with kids, but also with the entire staff.
What does it take to be an Avid4 Adventure counselor?
Most Avid4 Adventure instructors are working towards a career in the outdoors or in education – or both!  Historically, the average age of Avid4 Adventure staff has been 26 years old.  Teaching kids adventure sports requires sound judgment, credentials, and maturity. This puts Avid4 Adventure staff in a league above most summer camp staff.
Avid4 Adventure looks for both hard and soft skills when they're hiring.
Hard skills
While some credentials and certifications are position-specific, there are some across the board requirements – and it's important to note that most staff go beyond the following minimum requirements.
Experience in at least 1 of the following sports:  climbing, biking, kayaking, canoeing, SUPing, survival skills, outdoor education.
Basic CPR certification from the American Red Cross or the American Heart Association.
Wilderness First Aid certification by a nationally recognized organization.
Red Cross Small Craft Safety certification.
Soft skills
With an emphasis on safety and teaching kids to assess situations, use sound judgment and make good decisions, Avid4 Adventure isn't just educating kiddos about technical skills.  When McNabb is interviewing potential staff, she looks for 5 qualities in particular.
Demonstrated experience and a passion for working with kids.
Coachability. While our instructors already come on board with an impressive knowledge of the outdoors, Avid4 Adventure reinforces their understanding and makes sure they're following industry standards with in-house training.
Sound risk management judgment. Avid4 Adventure instructors teach kids to identify potential risks and how to use their critical thinking skills to mitigate the risk.
Initiative. Whether it's getting additional certifications, creatively solving a problem or stepping up when someone is not available, we want our staff to go beyond.
Excellent communication skills. Not only do our instructors communicate with kids, but they also need to speak with parents, other counselors, possibly park rangers.  Effective communication skills are a must.
Avid4 Adventure's hiring & training process
Summer camp recruiting begins mid-December and is a comprehensive process. Avid4 Adventure does extensive research into a candidate, such as performing a:
National Sex offender database search
Federal and county background check (which includes a fingerprint check)
Colorado Background Investigation (which includes child abuse reporting)
Two to three reference checks, depending on the position (two for day camp staff and three  for overnight camp staff – all of which are in line with ACA guidelines)
Driving record check to ensure a clean driving record
Yes, yes, Avid4 Adventure staff have impressive certifications and credentials, but the training doesn't stop after hiring.  For example:
Camp staff participate in a 7-day training
Overnight staff participate in a 14-day training
In addition, those staff working within a specialty receive additional trainings.  For example, special trainings are held for Discovery & Explorer staff since working with 3 – 6 year olds has its own nuances.  There are more in-depth trainings for whitewater staff, Valmont bike park staff and lead climbers that outlines policies and procedures and gives trainers a chance to evaluate staff and ensure that they are up to Avid4 Adventure's standards.
Both training programs are incredibly robust compared to the camp industry. Sessions include:
Training in all of Avid4 Adventure's core sports, educating staff on policies and procedures and different methods of instruction.  At the end of each training, staff are assessed to ensure they can safely and accurately teach children in different disciplines.
Risk assessment, teaching instructors to assess risk on a daily basis and in every activity that's done.  Avid4 Adventure also believes in teaching kids about risk assessment.  During training, staff practices our method of environmental briefings. The goal is that staff will draw information about human and environmental hazards from the campers, and by the end of their week of camp, campers are able to naturally brief each other before a change in activity.
Team building exercises, covering a variety of teambuilding initiatives for each specific age group throughout training. The goal of these activities is to foster friendships, promote inclusiveness, confidence, exploration, leadership and problem solving skills and, of course, encourage groups to work together as a team.
Van driving training, incorporating a classroom portion that reviews safety statistics and recommendations for driving vans with a practical portion in which staff get time behind the wheel practicing defensive driving techniques. Staff are assessed by the trainers at the end and must pass in order to drive.
Staff safety, explaining precautions that our staff should be taking in order to keep themselves safe and injury free.
Love and Logic training, equipping our staff with great behavior management techniques, which are based on respecting children and providing lots of choices along the way.
Information on Avid4 Adventure's history and mission, supporting Avid4 Adventure's mission and goal of getting kids outside is enhanced by staff spending time with our owner, David Secunda, reliving the stories that motivated him to start Avid4 Adventure.
When asked what makes Avid4 Adventure staff unique, McNabb said, "Our staff get behind our mission and are drawn to the company because of our mission and core values. This is important because it allows us to positively impact so many families and kiddos that come through our programs."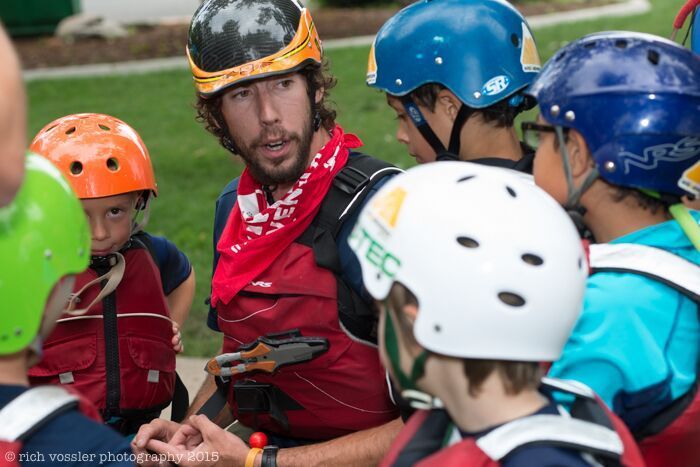 "Avid knows that its instructors are the heart of the company.  It's amazing to see a company so invested in their employee.  This commitment to getting the best and being the best makes me feel proud to work for the greatest outdoor summer camp in the US!" – Matt K., Avid4 Adventure Educator
Learn more about Avid4 Adventure, our leadership team and our camp staff.
About the Author: Lynne Marsala Basche spent most of her career on the island of Manhattan at two New York publishing companies.  A multi-year Avid4 Adventure mom and a contributor to the Avid4 Adventure website, Lynne's writing adventures also take her to championing volunteerism and regional recreation stories as a staff writer for the Castle Pines Connection newspaper, as well as supporting separate large corporate communications programs.  By trying to keep pace with her mountain biking, rock climbing, snowboarding, lacrosse playing, unicycling, tae kwon do-loving son, she, like most Avid4 parents, loves sharing the value of outdoor recreation and its positive influence on children's health and confidence development.  Lynne lives in Castle Pines, Colorado and regularly immerses herself in outdoor activities with her family where she also runs her freelance writing company, Blue Spruce Creative
Tagged: camp staff, Jobs with Avid4 Adventure