Back to Blog Homepage
Leave No Trace in 2016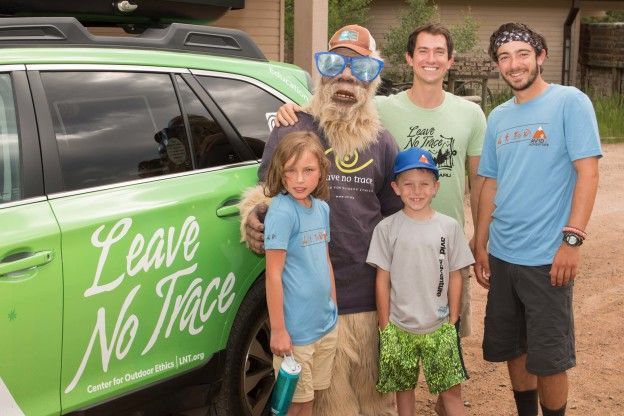 You may have heard us talk about Leave No Trace – a program we teach in both our day camps and sleep-away camps. But to us, Leave No Trace is more than a catchy slogan or about simply picking up your trash; it's a way of life. At Avid4 Adventure, each member of our overnight, residential camp staff is a certified LNT instructor, and our overnight Camp Director, Ian Roberts, is a Master Trainer. But where did the idea of LNT come from and why is it so important to us? And how do we instill the 7 values of LNT into each of our campers? Read on and see for yourself why Leaving No Trace can-and should-be a way of life! And who knows – maybe after a summer at camp, your kids can come home equipped to teach YOU all about it!
The 7 Principles
First, let's start with the basics. The 7 Principles. Think you've already got them down? Test your outdoor savvy with LNT's Awareness Test here. You can review the basics below:  
Plan ahead and prepare: Know where you're going, prepare for the weather and emergencies, and travel in small groups whenever possible.
Travel and camp on durable surfaces: Use already-established trails and campsites. There's no need to go rogue and create anything new.  We know kids like to explore, and there's no need to squash their enthusiasm.  We recommend simply explaining to kids that going off trail widens the existing path and tramples vegetation.  
Dispose of waste properly: Take all trash, including leftover food, with you when you leave.  Learn the correct way to dispose of waste and wash dishes.
Leave what you find: This is a tough one for kids, who are very much tactile little creatures and learn by touch (for better or for worse).  Don't pick wildflowers or touch artifacts, and remember that natural objects should be left as you found them.  
Minimize campfire impacts: There's no need to create a roaring bonfire.  Where fires are permitted, keep them small and use fire rings or fire pans.  Don't forget to make sure campfires are put out completely before you leave.
Respect wildlife: Always remain a safe distance from all animals and don't taunt them.  Appreciate animals in their natural habitat.  Remember, it's never a good idea to feed animals.
Be considerate of other visitors: Trails and campsites are for everyone, so be courteous and respect fellow outdoor enthusiasts.
LNT + Avid4 Adventure
At Avid4 Adventure, we believe that teaching these principles to children at an early age will help them not only resonate, but stick with the child as they grow up. We also believe that campers of all ages – from our youngest day-campers to our veterans at sleep-away camp – can benefit from training in these principles. We pride ourselves on living by our Core Values, one of which is to live environmentally connected. To us, that means teaching kids to be environmental stewards and using any opportunity to spread consciousness about our impact on the world around us.
LNT at Day Camp
At our multi-sport day camps throughout Colorado and California, we weave the LNT principles into each sport we teach. Whether kids are learning to rock climb or kayak, we discuss the different ways families can make sure to leave no trace. Campers are taught the importance of taking only photographs and memories… and leaving behind only footprints!  
LNT at Colorado Mountain Camp
When campers spend an extended amount of time with us – like they do at our popular sleep-away camp CMC – we really get a chance to dig in. While at camp, kids attend workshops dedicated to the 7 principles, and later get the chance to explore those principles in depth. Our youngest campers get an hour to a few hours to explore what they've learned, while teens enrolled in our teen leadership program embark on solo expeditions, where they put the 7 principles into action.
Leave No Trace has been around for over 20 years, but as an initiative, they've been around since the 50s. The fantastic thing about LNT is that they're constantly reevaluating the impact they're making in our Nation's parklands. LNT's current goal is to provide education for everyone who spends time outdoors. While this may seem like a lofty goal, the impact would be Earth-changing (literally!), and Avid4 Adventure is doing our part to pitch in. We hope you'll join us!
__
For a full rundown on Leave No Trace, including more on the 7 Principles, click here, or check out the Leave No Trace website. To learn more about Avid4 Adventure's camp curriculum, visit: http://www.avid4.com/.